Whether you are a startup or a seasoned pro, managing your business is tough. That is why making a decision to look for assistance is always a big first step. If you're looking to hire a bookkeeper, here are five questions to ask your bookkeeper to make sure they're the right fit for your business.
Great, you've made the decision to look for help, but now what? A simple google search will yield you thousands of results. It can feel both confusing and overwhelming, but you don't have to go through it alone.
Using keywords when doing a google search for a bookkeeper can greatly reduce the number of results and help you narrow in on the specific type of services that you and your business need.
Not all bookkeeping services are alike. Some are limited to basic services such as transaction matching while others offer a more robust and full service line. Another great resource available to any small business owner is their local chamber of commerce. You can get a list of bookkeepers from your local chamber of commerce at little to no cost to you.
Once you've narrowed down your choices of bookkeepers, what is next? Meeting with your potential bookkeeper whether is person, over the phone, or video call, should be a must before you commit to any service; no matter how enticing their website might be.
Meeting with your potential bookkeeper will give both sides the opportunity to get to know each other and decide it moving forward into a client relationship is a good idea. It is best to be prepared and have an idea of what questions you want to ask your bookkeeper before your meeting.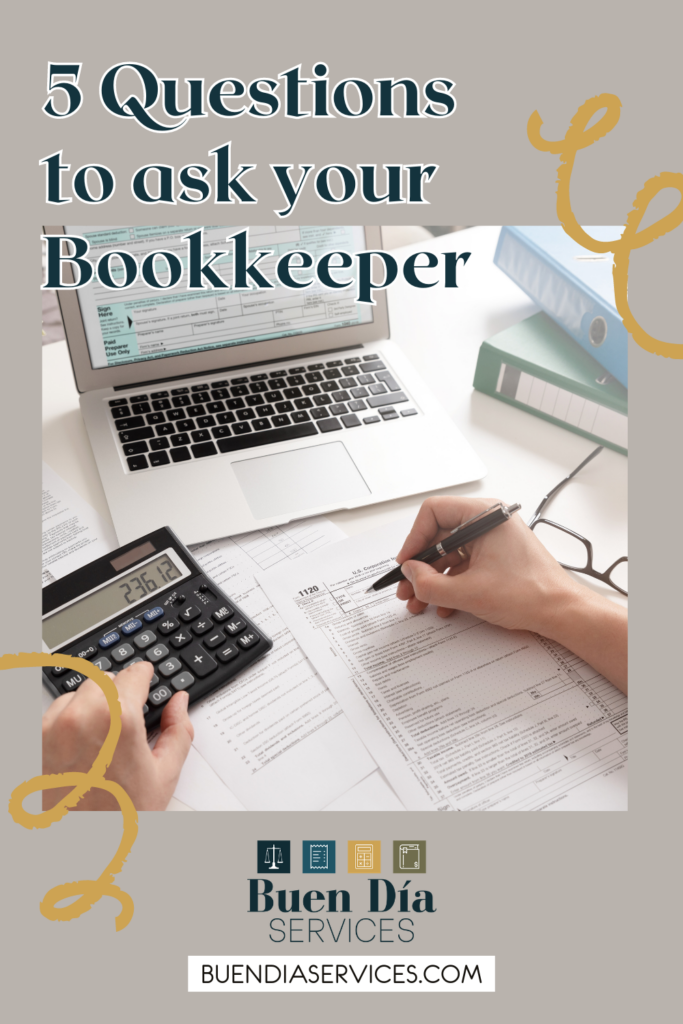 5 Questions to ask your Bookkeeper
Below are five of the best questions you can ask during your meeting:
1. What platform do you use?
The type of software your bookkeeper uses is akin to what type of espresso machine a barista uses. You wouldn't want a barista to make your latte with a Keurig and you wouldn't want your bookkeeper to generate your financial reports in Excel. Don't misunderstand, Excel has its uses in the financial word, but at a minimum a bookkeeper needs to have some type of platform or software for maintaining financial data. Quickbooks is one of the best platforms available to bookkeepers and business owners. Not only can QuickBooks be used for established companies, but it can also be used for new business and solopreneurs.
2. What type of experience do they have?
Trusting a company with your financial data is a big leap of faith. Knowing the experience your bookkeeper has is essential. You should make sure that the bookkeeper has at a minimum 10 years of experience. Experience in your industry is also a big plus.Being familiar with your industry will give the relationship a great head start and set you up for success.
3. How will they strategize with your business
What type of plan will be initialized by the bookkeeper to learn your business? This is a critical step to not understanding your business's strengths, but also it's weaknesses. The plan should be clear and concise with and should be done early in the setup process.
4. How do they follow current regulations
Navigating the ever changing landscape of accounting and tax regulations can be like being a crossing guard on a 8 lane highway. Changes are often and if you aren't careful you can face penalties and interest if your bookkeeper is not on top of new changes. Make sure your bookkeeper knows how to deal with updated regulations and how to effectively communicate those changes to you.
5. How would you interact with your bookkeeper?
There are many factors to consider here, availability, language and communication methods are just a few. Making sure your bookkeeper has time for you beyond your initial setup is paramount to success. If they aren't available at least one a month it may be best to look elsewhere.
Services outsourced to overseas teams may keep prices down, but at the expense of not only language barriers, but also availability. It is a good question to ask if the company is based in the U.S. and how often you will meet. Meeting in person is great, but for busy professionals, meeting via video conferencing can also be ideal. Whatever your preference is, make sure your bookkeeper can accommodate your business needs.
We hope you found these tips helpful! Feel free to give us a call if you're currently looking for a bookkeeper. We're offering free 30 minute discovery calls (also a great way to run through this list!).